Full list of upcoming IPOs 2021 in India
Upcoming IPOs 2021
2020 had a stellar year in terms of block buster IPOs like Burger king, Gland Pharma and Bectors food. Retail investor participation in most of the IPOs has been a significant uptick. Everyone is rushing to apply for IPOs with a hope that they will have an allocation for listing gains.
Riding the wave, a lot of companies have lined up for their Upcoming IPOs 2021. If market continues to be upbeat like how it ended 2020 then 2021 may see the highest no of IPOs the stock market has seen.
Let's have a look on Upcoming IPOs in 2021.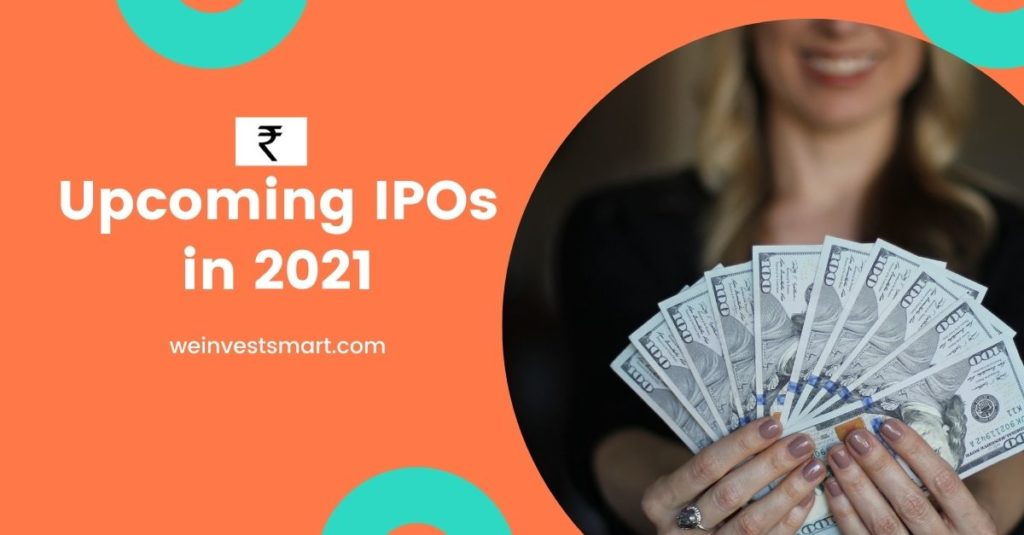 Full list of Upcoming IPOs 2021 India
Here is a full list of the companies which are coming with their IPOs in 2021:-
Company / Stock Name
IPO Size (approx) in cr
Tentative Date
Home First Finance Ltd
1500
2021
Kalyan Jewellers
1700
2021
ESAF Small Finance Bank Ltd
1000
2021
Studds Accessories Limited
450
2021
Stove Kraft Ltd (Pigeon Appliances)
500
2021
Dodla Dairy Ltd
500
2021
Chartered Speed Ltd
275
2021
Stove Kraft Ltd (Pigeon Appliances)
500
2021
Harsha Engineers Limited
500
2021
Century Metal Recycling Ltd
700
2021
Powerica Limited
800
2021
Bajaj Energy Ltd
5400
2021
SAMHI HOTELS LIMITED
2000
2021
HDB Financial Services Ltd
9000
2021
APEEJAY SURRENDRA PARK HOTELS Ltd
1000
2021
National Commodity & Derivatives
Exchange Ltd (NCDEX IPO)
1700
2021
Telecommunications Consultants India Ltd (TCIL Ltd)
1500
2021
Indian Railway Finance IPO
4500
2021
RailTel IPO
700
2021
Kalyan Jewellers IPO
1750
2021
NCDEX IPO
500
2021
Bajaj Energy IPO
5450
2021
Lodha Developers IPO
5500
2021
Montecarlo Limited IPO
550
2021
LIC IPO
70000
2021
Indigo Paints
1000
Jan 20 – Jan 22 , 2021
Home First Finance Company
1500
2021
Brookfield REIT
4000-4500
2021
Full list of Upcoming IPOs in 2021 India
We will continue to add more companies to the list as on when the IPO announcements are done.
Thing to note here is that many companies have filed the DRHPs with SEBI ; it's probable that few of the IPOs may not materialise and may not be open for subscription in 2021.
Most awaited IPOs in 2021
Here are some most awaited IPOs in 2021:-
Indigo Paints IPO
The paint segment has seen a lot of interest from investors recently. Being the 5th largest paint company in India, Indigo Paints IPO is eagerly waited by the investors. As per the filing by the company , Profits of Indigo Paints have tripled in last 3 fiscals.
As per the filing The proceed of the IPO will be used for capital expansion.
Indigo Paints IPO Details
IPO Opening Date
Jan 20, 2021
IPO Closing Date
Jan 22, 2021
Issue Type
Book Built Issue IPO
Face Value
₹10 per equity share
IPO Price
₹1488 to ₹1490 per equity share
Market Lot
10 Shares
Min Order Quantity
10 Shares
Listing At
BSE, NSE
Issue Size
[.] Eq Shares of ₹10
(aggregating up to ₹1,176.00 Cr)
Fresh Issue
[.] Eq Shares of ₹10
(aggregating up to ₹300.00 Cr)
Offer for Sale
5,840,000 Eq Shares of ₹10
(aggregating up to ₹[.] Cr)
Indigo Paints IPO Details
Indigo Paints IPO Tentative Timetable
The Indigo Paints IPO open date is Jan 20, 2021, and the close date is Jan 22, 2021. The issue may list on Feb 2, 2021.
| | |
| --- | --- |
| IPO Open Date | Jan 20, 2021 |
| IPO Close Date | Jan 22, 2021 |
| Basis of Allotment Date | Jan 28, 2021 |
| Initiation of Refunds | Jan 29, 2021 |
| Credit of Shares to Demat Account | Feb 1, 2021 |
| IPO Listing Date | Feb 2, 2021 |
Indigo Paints IPO Tentative Timetable
Indigo Paints IPO grey market premium / GMP
Although grey market premiums are not the official way of measuring an IPO, but Indigo Paints IPO has seen huge interest from investors and its grey market premium / GMP is Rs 800-820.
LIC IPO
Life Insurance Corporation / LIC IPO will be the biggest in Indian history when it comes to markets. As per reports, LIC has more than 65% market share in Life insurance sector in India making it a market dominant player.
Companies like HFDC life , SBI Life and ICICI pru have already seen huge success in their IPOs. When LIC IPO comes its expected to a block buster IPO.
National Commodity & Derivatives Exchange Ltd / NCDEX IPO
As per NCDEX website , National Commodity & Derivatives Exchange Limited (NCDEX) (NCDEX/the Exchange) is a leading agricultural commodity exchange in India, with a market share of 78.0%, 81.5%, 79.9% and 78.1% in the agricultural commodity segments, based on average daily turnover (by value) for the six month period ended September 30, 2019, Fiscal 2019, Fiscal 2018 and Fiscal 2017, respectively.
The Exchange has maintained its leadership position since 2005, in the agricultural commodity derivatives market, in terms of ADTV.
NCDEX is again a market dominant player in its segment and expected to be a blockbuster IPO when it comes to the primary markets.
Indian Railway Finance Corporation / IRFC IPO
IRFC primarily is in the business of financing asset creation or acquisition for the Indian Railways or any other business/entity under the Ministry of Railways. In its words, it is the "dedicated financing arm" for the railway's ministry. The company was set up in the last 1980s.
After the huge success of IRCTC, IRFC is expected to have a good interest from investors for it's IPO.
RailTel Ltd IPO
It looks like Govt of India is leaving no stone unturned when it comes to disinvestment of everything related to railways!
RailTel Ltd is a Central Public Sector Enterprise (CPSE) and a Mini Ratna company. RailTel was also instrumental in the implementation of some of the Government of India projects, for example National Knowledge Network, Bharat Net (formerly, the National Optical Fiber Network) and USOF funded optical fiber based connectivity project in North East India.
Again RailTel Ltd IPO is expected to have huge interest from investor on back of the success of IRCTC.
Consider reading
Best dividend paying stocks in India
What is Penny stock? – List of penny stock in India
Top 100 Blue chip stocks India in 2020
Upcoming IPOs 2021 in India – Closing thoughts
Its no secret that with the increase in retail participation in IPOs , many companies have lined upto to encash the positive sentiment in the capital markets and we will see a lot of companies rushing to get listed as early as possible.
As a retail investor you need to carefully evaluate the companies which are floating IPOs and make sure you don't just apply for listing gains. There will be some excellent companies that will get listed in the stocks markets. If you remain invested in these companies then you can make a fortune on your investments.
We wish you luck in the Upcoming IPOs 2021 ; may you get the allocation for the IPOs you apply for!