Last Updated on 4 months ago by Raj Kumar
What is Nifty 50?
What is NIFTY 50? For a newbie investor, it's often hard to get started with understanding all the details of stock markets. We will revisit the basics of the stock market and understand the different stock indices that we have in India. We will learn the basics of Indices and how they affect our stock market investing journey.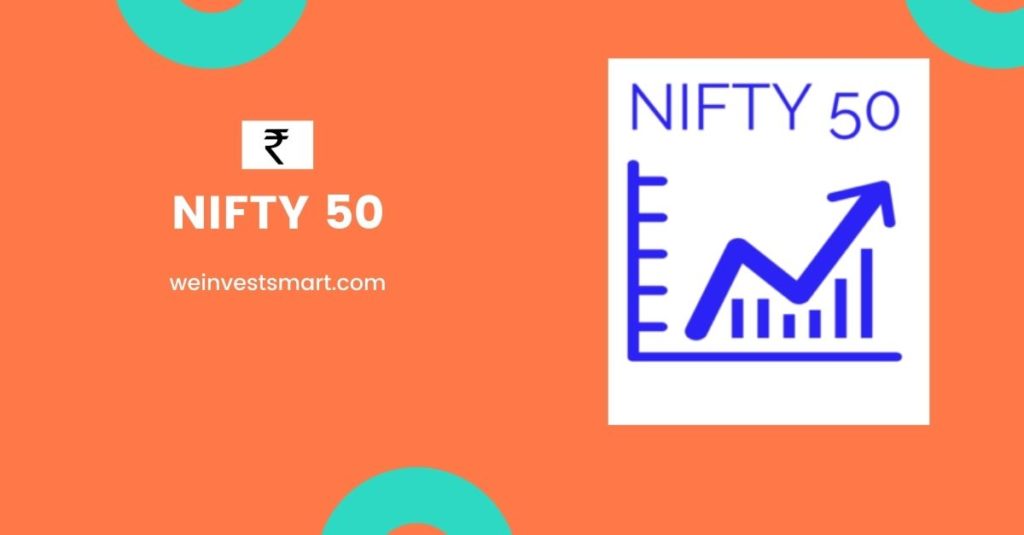 In this article, we will talk about What is Nifty 50 index?
What is Nifty 50 index?
To start with Nifty 50 index is one of many Indices that NSE India has. NSE India is a stock exchange where it allows investors/traders to invest/trade in stocks. NSE India has created many stock indices to track the performance of markets in general, NIFTY 50 is one among the many Indices.
History of NIFTY 50 index
NIFTY 50 Index was launched on 22nd April 1996. The index was launched with a base value of 1000. As the name suggests, NIFTY 50 has 50 companies as part of its index.
The NIFTY 50 index is a well-diversified 50 companies index reflecting overall market conditions. NIFTY 50 Index is computed using the free-float market capitalization method.NIFTY 50 can be used for a variety of purposes such as benchmarking fund portfolios, launching of index funds, ETFs, and structured products.
Which companies / stocks are part of NIFTY 50?
As of September 2020 below are the 50 companies/stocks which are part of the NIFTY 50 Index.
Company / stock name
AXISBANK
MARUTI
IOC
TECHM
ADANIPORTS
COALINDIA
HINDALCO
ICICIBANK
SBIN
ONGC
GAIL
WIPRO
SHREECEM
TATAMOTORS
TCS
HDFCBANK
KOTAKBANK
ULTRACEMCO
SUNPHARMA
POWERGRID
HINDUNILVR
ASIANPAINT
HDFC
GRASIM
NTPC
INFY
EICHERMOT
ITC
CIPLA
INDUSINDBK
NESTLEIND
LT
BPCL
DRREDDY
ZEEL
BRITANNIA
UPL
HCLTECH
JSWSTEEL
TATASTEEL
TITAN
HDFCLIFE
BAJAJFINSV
HEROMOTOCO
BHARTIARTL
RELIANCE
BAJAJ-AUTO
M&M
BAJFINANCE
INFRATEL
NIFTY 50 companies list
NIFTY 50 weightage by sector
By far the biggest sector within NIFTY 50 is Financial services sector which are dominated by banks. Below table shows the weightage by sector for NIFTY 50.
| | |
| --- | --- |
| Sector | Weight(%) |
| FINANCIAL SERVICES | 34.96 |
| OIL & GAS | 15.74 |
| IT | 15.27 |
| CONSUMER GOODS | 12.15 |
| AUTOMOBILE | 5.82 |
| PHARMA | 2.98 |
| TELECOM | 2.89 |
| CONSTRUCTION | 2.39 |
| METALS | 2.34 |
| CEMENT & CEMENT PRODUCTS | 2.04 |
| POWER | 1.91 |
| FERTILISERS & PESTICIDES | 0.58 |
| SERVICES | 0.55 |
| MEDIA & ENTERTAINMENT | 0.38 |
Nifty 50 index weightage by sector
NIFTY 50 top weightage stocks / companies
Nifty 50 stocks weightage in 2021 ; Below are the top 10 companies as per their weightage. Reliance Industries, HDFC Bank and Infosys contribute to 30 % of the NIFTY 50.
Stock / Company's Name
Weightage (%)
Reliance Industries Ltd.
13.63
HDFC Bank Ltd.
9.99
Infosys Ltd.
7.03
Housing Development Finance Corporation
6.55
ICICI Bank Ltd.
5.62
Tata Consultancy Services Ltd.
4.90
Kotak Mahindra Bank Ltd.
4.24
Hindustan Unilever Ltd.
3.91
ITC Ltd.
3.45
Bharti Airtel Ltd.
2.55
Nifty 50 weightage by stocks in 2021
NIFTY 50 historical performance
below graph shows the historical performance of NIFTY 50. Nifty has come a long way from 1000 in 1996 to 11000 in 2020. Thats 11x returns in 25 years!

What is the eligibility criteria for a stock / company to be part of NIFTY 50?
As per NSE website
Eligibility Criteria for Selection of Constituent Stocks:
Market impact cost is the best measure of the liquidity of a stock. It accurately reflects the costs faced when actually trading an index. For a stock to qualify for possible inclusion into the NIFTY50, have traded at an average impact cost of 0.50% or less during the last six months for 90% of the observations, for the basket size of Rs. 100 Million.
The company should have a listing history of 6 months.
Companies that are allowed to trade in the F&O segment are only eligible to be constituent of the index.
A company that comes out with an IPO will be eligible for inclusion in the index if it fulfills the normal eligibility criteria for the index for a 3 month period instead of a 6 month period.
NIFTY 50 Index Re-Balancing:
The index is re-balanced on a semi-annual basis. The cut-off date is January 31 and July 31 of each year, i.e. For a semi-annual review of indices, average data for six months ending the cut-off date is considered. Four weeks prior notice is given to the market from the date of the change.
Index Governance:
A professional team manages all NSE indices. There is a three-tier governance structure comprising the Board of Directors of NSE Indices Limited, the Index Advisory Committee (Equity), and the Index Maintenance Sub-Committee.
Consider reading
Best dividend paying stocks in India
What is Penny stock? – List of penny stock in India
Top 100 Blue chip stocks India in 2020
What is the importance of NIFTY 50 in Indian stock market?
Although BSE Sensex is the oldest indices in the Indian stock market but NIFTY 50 is being tracked by many investors in India and all over the world. NIFTY 50 is considered the major Index of Indian stock market. NIFTY 50's performance is used to measure the stock market performance.
If you are a new investor then we suggest you to get familiarise with NIFTY 50 stocks as they are often the top 50 stocks in Indian stock markets. The NIFTY 50 stocks are mostly considered as the safest stocks to invest in.
There are many ETFs and Index funds which invest directly in Indices with low cost of managing the fund. In that case understanding NIFTY 50 becomes a crucial part in your investing journey.
we hope you have liked this article, if you did then please share with your friends!
What does NIFTY 50 mean?
Nifty 50 is one of the Index created in NSE which consists of 50 stocks. The purpose of NIFTY 50 is to track underline performance of these 50 stocks which are part of the index
What does Sensex and nifty meaning?
Sensex vs NIFTY which is better?
There is no comparison between Sensex and NIFTY as they are separate indexes on their own. SENSEX is an Index of 30 stocks so Sensex tracks the performance of 30 stocks only where as NIFTY 50 is an index of 50 stocks which tracks performance of 50 stocks.
Historically Sensex and NIFTY has given similar returns on an index basis.
How do I invest in NIFTY 50 Index?
If you want to directly invest in NIFTY 50 then you can either buy an ETF which invests in NIFTY 50 or you can buy an index fund which invests in NIFTY 50.
If you are looking to invest in stocks which are part of NIFTY 50 then you can buy any stocks which are part of NIFTY 50 via your broker.
What is nifty's returns last 10 years?

From the levels of around 5500 in Nifty in 2010; Nifty has reached 12000 in 2020 thus giving around 120% returns in 10 years.
What are the top 10 nifty 50 stocks?
As per the market cap the top 10 nifty 50 stocks as of Jan 2021 are as below:-
RELIANCE
TCS
HDFCBANK
HINDUNILVR
INFY
HDFC
KOTAKBANK
ICICIBANK
BAJFINANCE
BHARTIARTL