Although share prices are not the correct Indicator of whether a particular stock is cheap or expensive but it creates a psychological bias toward a stock. There are many stocks in India with stock prices above 10K and seen as very expensive stocks in India by retail investors.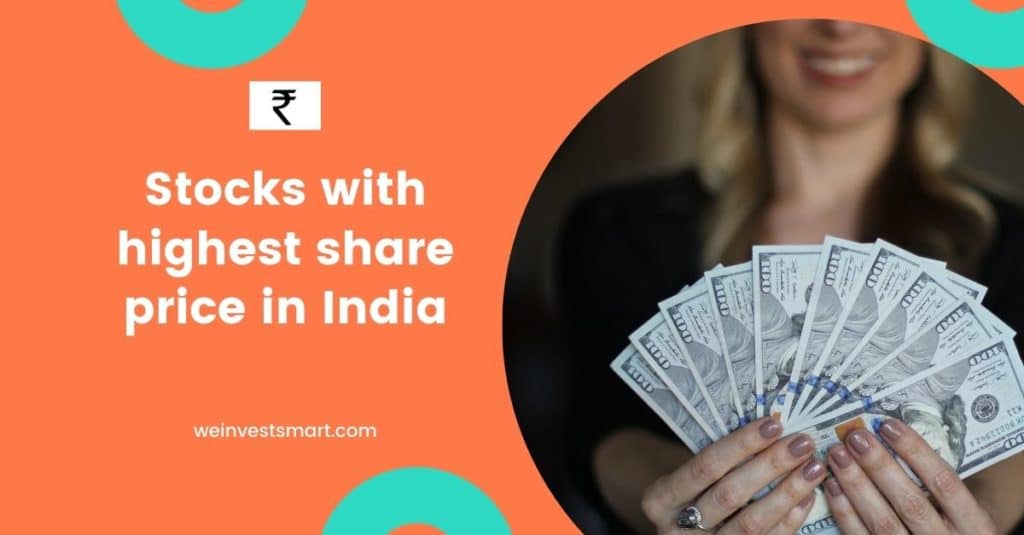 In reality, often stocks with high stock prices tend to have cheaper valuations than stocks with lower stock prices.
In this article, let's have a look at 10 Stocks with the highest share price in India.
List of 10 Stocks with the highest share price in India / Most expensive stocks in India
Here are the 10 stocks with the highest share prices in India:
| | | | |
| --- | --- | --- | --- |
| COMPANY / Stock | SECTOR – INDUSTRY | Price (Rs) | Market CAP(Rs Cr.) |
| MRF | Tyres & Tubes | 79,159.65 | 33,573 |
| Honeywell | Capital Goods – Diversified | 41,053.20 | 36,297 |
| Page Industries | Branded Hosiery/Knitwear | 32,584.35 | 36,344 |
| Shree Cements | Cement – North | 28,386.60 | 102,421 |
| 3M India | Diversified | 24,446.80 | 27,539 |
| Nestle India | FMCG Food & Beverages | 18,020.65 | 173,747 |
| Tasty Bite Eatable | FMCG Food & Beverages | 17,879.65 | 4,588 |
| Abbott India | Pharma – MNC | 17,506.05 | 37,199 |
| Bosch | Auto Ancl – Engine Parts | 14,901.30 | 43,949 |
| Bajaj Finserv | NBFC – Diversified | 14,005.65 | 222,882 |
List of 10 Stocks with the highest share price in India
1. MRF – India's highest-priced stock
MRF has the highest stock price in India as of April 2021. With a stock price of 78214, MRF is seen as the most expensive stock in India and beyond the reach of most retail investors.
MRF is a leading manufacturer of tires in India having a market share of more than 25% in the tire business. MRF's shares have done excellently well in the last 20 years giving handsome returns to its investors.
Why is MRF's share price so high?
I answered this in one of my Quora answer. The management of MRF has been managing MRF's share price very cleverly since the listing of MRF. They have never given any Bonus, stock split, or dividend yield for that matter. All the earnings /profits reflect in the MRF stock price which is why it looks very expensive.
It helps them to keep speculators away from getting into stock as the volume of stock trading is low. Generally, only investors enter into investing in MRF stock.

If you look at the above stock chart for MRF, it has been consistently rising. MRF's stock price was around 2500 in 2006 and it has reached a high of 98600 in 2021. That's almost 40 times returns i 15 years!
2. Honeywell
Honeywell Automation Ltd is a ~$350 million+ company. It was incorporated in India in 1984 and its registered office is in Hadapsar, Pune. HAIL is a leader in providing integrated automation and software solutions, including process solutions and building solutions.
It has a wide product portfolio in environmental and combustion controls, and sensing and control, and also provides engineering services in the field of automation and control to global clients.
Honeywell stock has done excellently well in the past; It was only Rs 600 in 2006 and it has touched a high of Rs 49990 in 2021!

3. Page Industries
Page Industries Limited located in Bangalore, India is the exclusive licensee of JOCKEY International Inc. (USA) for the manufacture, distribution, and marketing of the JOCKEY® brand in India, Sri Lanka, Bangladesh, Nepal, and the UAE. Page Industries is also the exclusive licensee of Speedo International Ltd. for the manufacture, marketing, and distribution of the Speedo brand in India.
The Page industries stock price has given excellent returns in the past; from a level of Rs 400 odd in 2006 the page industries stock price has reached a high of Rs 35000 in 2018.

4. Shree Cements
Shree Cements is one of India's largest cement makers. Shree Cement has a consolidated Cement Production Capacity of 44.4 Million tonnes per annum (including overseas) and a Power Generation Capacity of 742 Megawatts.
Shree cements stock has done excellently well in the past. The stock has risen from a level of Rs 500 in 2006 to a high of Rs 32000 in 2021.

5. 3M India
3M India has a diversified portfolio.
As per the 3M India website, They automate health care data so the right people get the right information. Across the globe, 3M is inspiring innovation and igniting progress, all while contributing to true global sustainable development through environmental protection, corporate and social responsibility, and economic progress. We are applying our science and innovation to make a real impact in every person's life around the world.
The stock has given outstanding returns in past decades. From a level on Rs 500 odd in 2006, the stock hit a high of Rs 31000 in 2021.

6. Nestle India
Nestle India is a market leader in most FMCG items. Some of its brands like Maggi, Cerelac, Nescafe etc have a monopoly in the market and they command over 60-70% of the sales in its segment.
As per Nestle India website, NESTLÉ India manufactures products of truly international quality under internationally famous brand names such as NESCAFÉ, MAGGI, MILKY BAR, KIT KAT, BAR-ONE, MILKMAID and NESTEA, and in recent years the Company has also introduced products of daily consumption and use such as NESTLÉ Milk, NESTLÉ SLIM Milk, NESTLÉ Dahi, and NESTLÉ Jeera Raita.
Nestle India's share prices have given outstanding returns in the past. From a level of 600 odd in 2006, it made a high of 18844 in 2021.

7. Tasty Bite Eatable
Tasty Bite Eatable has a wide range of ready-to-eat products.
As per the Tasty Bite Eatable website, From Bombay Potatoes to Madras Lentils to Basmati Rice to Pad Thai, Tasty Bite Eatable have an extensive range of ready-to-eat products. As the fastest-growing Asian food brand in the US, they pride themselves on catering healthy, delicious, and easy-to-cook food.
Since its launch in the US in 1995, the Tasty Bite® brand has stood for great taste, real convenience, and good value. It has brought customers a range of easily accessible culinary experiences that evoke nostalgia in those far from home and delight in those trying a palate-pleasing new cuisine for the first time.
The Tasty Bite® range of ready-to-eat and easy-to-cook, all-natural products cover the gamut of Indian and Asian cuisines and include a vast selection of entrees, ready-to-cook sauces, and organic rice and whole-grain preparations. Today, our products are available in the US, Canada, Australia, New Zealand, Japan, Germany, and the UK.
Tasty Bite Eatable had a phenomenal journey in the last 2 decades. The Tasty Bite Eatable stock price was just Rs 20 odd rupees in 2006 and it made a high of Rs 16410 in 2021. People who invested in Tasty Bite Eatable in the 2000s have made a huge return on the stock!

8. Abbott India
Abbott India is primarily a Pharma company having consumer care products. The company has a great reputation for its brands.
Abbott India's share price has given excellent returns in the last 2 decades. From a level of Rs 600 added in 2006, the Abbott India share price has hit a high of Rs 18680 in 2021.

9. Bosch
In India, Bosch is a leading supplier of technology and services in the areas of Mobility Solutions, Industrial Technology, Consumer Goods, and Energy and Building Technology. Additionally, Bosch has, in India, the largest development center outside Germany, for end-to-end engineering and technology solutions.
Bosch India share price had a great run from 2006 till 2015 when it went from Rs 2000 to Rs 25000 odd but since 2015 the Bosch India share prices are not doing that well and currently trading Rs 13500 odd in 2021.

10. Bajaj Finserv
Bajaj Finserv had a stupendous run between 2010 to 2020. Bajaj Finserv's share price was a mere 100 odd rupees around 2010 but its share price rose from 100+ to 14000+ in 2021. Both Bajaj Finserv and Bajaj finance are massive wealth creators for investors in the last decade.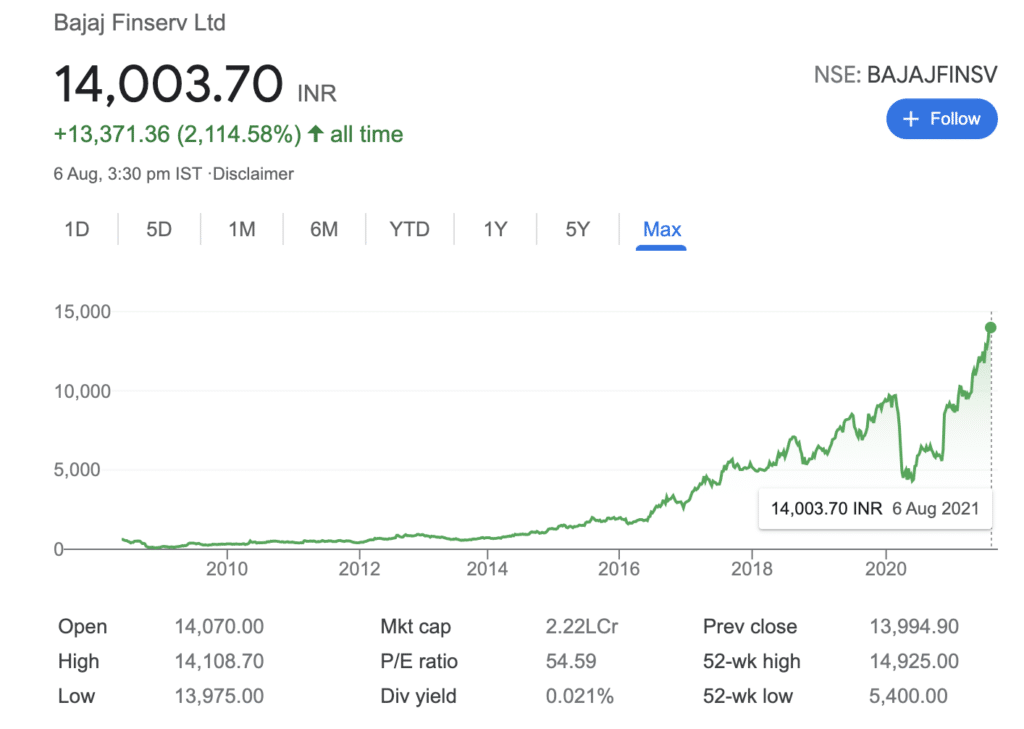 Consider reading
Highest dividend paying stocks in India
Top 100 List of penny stocks in India
Closing thoughts on Stocks with the highest share price in India
As you have seen above almost all stocks that are seen as very expensive stocks have given excellent returns in the last 2 decades. Retail investors generally have a myth about Stocks with the highest share price in India, they think these stocks are very expensive stocks to buy but in actual although the share prices for these stocks are on the higher side. Most of the time their valuations are cheap compared to some of the stocks which have share prices in single or double digits.
If you have money to purchase these stocks then it may give you higher returns than some of the low-priced stocks.
Disclaimer – Please consult your Financial advisor before taking any decision while investing in stocks.
FAQ on stocks with the highest share price
Which are the most expensive stocks in India?

The top 10 most expensive stocks in India as per their share price is as below –

MRF
Honeywell
Page Industries
Shree Cements
3M India
Nestle India
Tasty Bite Eatable
Abbott India
Bosch
Bajaj Finserv

Is it good or bad to buy stocks with high share prices?

More often than not, it is a good decision to buy stocks with higher stock prices as historically they have excellent returns.

Why is the MRF stock price so high?

MRF stock command a very high share price because the stock has never given any bonus shares, stock splits, or good dividends as compared with other stocks.

The MRF management has decided to keep all the value of the stock in the stock price and that is the reason the stock price looks extremely expensive.