Vijay Kedia Portfolio of Stocks in 2023 – List of Stocks, Net Worth, Age, and Personal Details
Dr. Vijay Kedia is a very well-known name in the investing community in the Indian stock markets. He comes across as dynamic, joyful, and extremely positive about emerging businesses in India. He is Director at Kedia Securities Pvt Ltd a firm that he established to manage his investment activities. Let's have a look at what stocks are part of the Vijay Kedia Portfolio.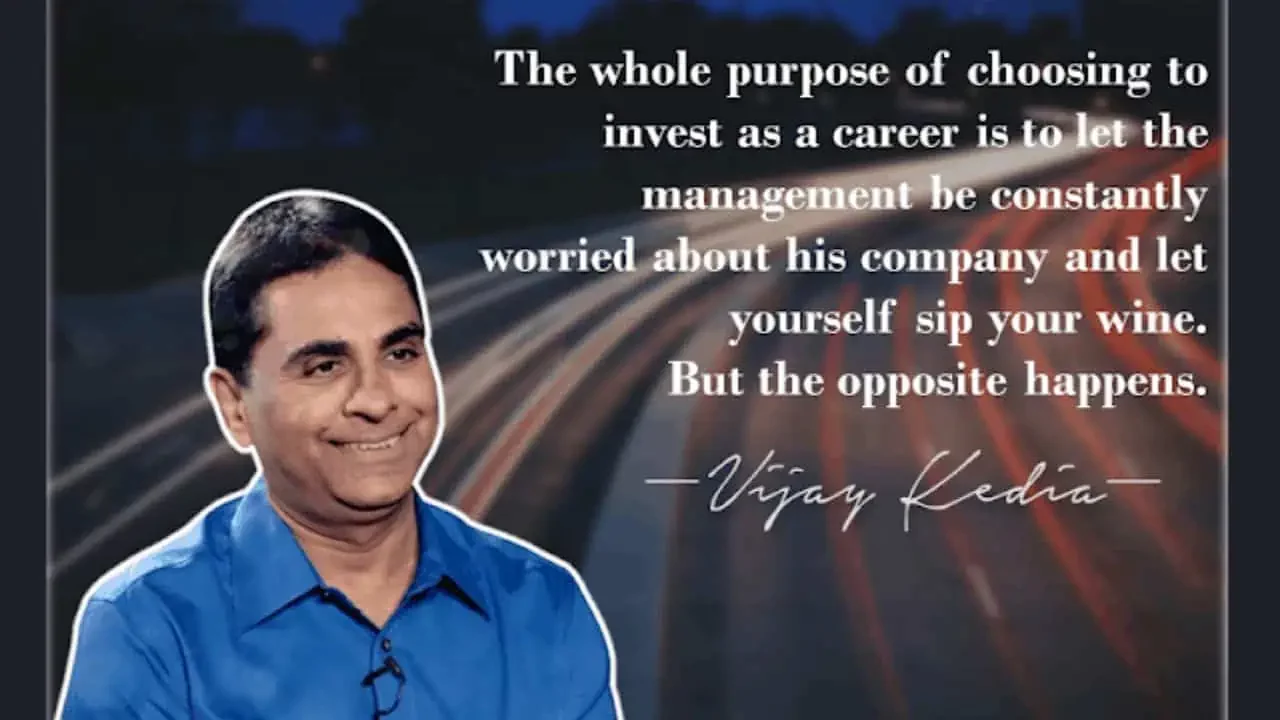 Latest Vijay Kedia Portfolio of Stocks List in 2023
The stocks that are part of the latest Vijay Kedia Portfolio of Stocks are as below:
| STOCK | HOLDING VALUE (RS.) | JUN 2023 HOLDING % |
| --- | --- | --- |
| Tejas Networks Ltd. | 281.4 Cr | 2.00% |
| Elecon Engineering Company Ltd. | 146.9 Cr | 1.80% |
| Atul Auto Ltd. | 141.6 Cr | 14.90% |
| Vaibhav Global Ltd. | 109.3 Cr | 2.00% |
| Affordable Robotic & Automation Ltd. | 73.6 Cr | – |
| Repro India Ltd. | 72.0 Cr | 6.80% |
| Mahindra Holidays & Resorts India Ltd. | 68.2 Cr | 1.00% |
| Patel Engineering Ltd. | 56.6 Cr | 1.70% |
| Neuland Laboratories Ltd. | 54.5 Cr | 1.30% |
| Sudarshan Chemical Industries Ltd. | 48.7 Cr | 1.40% |
| Innovators Facade Systems Ltd. | 31.4 Cr | 10.70% |
| Heritage Foods Ltd. | 29.5 Cr | 1.20% |
| Siyaram Silk Mills Ltd. | 27.2 Cr | 1.10% |
| Precision Camshafts Ltd. | 26.3 Cr | 1.20% |
| Talbros Automotive Components Ltd. | 12.8 Cr | 1.20% |
| Panasonic Energy India Company Ltd. | 3.1 Cr | 1.20% |
Vijay Kedia Portfolio of Stocks List in 2023
Vijay Kedia Key Information
Here is key information about Vijay Kedia:
Detail
Information
Full Name
Vijay Kishanlal Kedia
Birthplace
Calcutta, India
Age
64 Years
Education
Net Worth
Occupation
Investor and Trader
Net Woth
Rs 1000 Crores
Children
2
Career
Started investing in the stock market at the age of 19. He is the founder of Kedia Securities Pvt. Ltd., and is the largest shareholder in several listed companies.
He has been a keynote speaker at IIM Ahmedabad, IIM Bangalore & MDI Murshidabad, and has been a TEDx speaker twice.
He was also invited to speak at London Business School. He has been described by the Economic Times as a "market master".
Please note that this information is sourced from Wikipedia and may not be completely up-to-date or comprehensive.
Vijay Kedia's Personal Story
Before we dive into the details of his investment portfolio, it's important to know a little bit about the man behind it.
Vijay Kedia is a well-known Indian investor who has been active in the stock market for over three decades.
He started his investment journey in the early 1980s with just Rs. 35,000 in hand, and today he is a billionaire with a net worth of over Rs. 1,000 crores.
After taking over the broking business after his father's death, Kedia moved to Mumbai in 2004 to make it big!
His early investments in Atul Auto, Aegis Logistics, and Cera sanitaryware have given manifold returns which made him famous in the stock market.
Apart from investments, Dr. Vijay Kedia likes to spend his time in Yoga and Singing. He has been seen sharing his personal stories on Twitter about his songs and Yoga practices.
Vijay Kedia Songs
Dr. Vijay Kedia is an avid singer, he has mostly seen singing songs related to markets. One of his songs 'Mere Share Bazaar Song By Vijay Kedia went viral on social media in 2018. You can watch it here.
Vijay Kedia's Song Lyrics
The minute i started making a bit of profit,
I felt like i was invincible.
Got over confident,
made a big trade,
And lost all the money….
Oh my god…
O My Future Options…..
O My Future Options,
Always gave me tension,
You troubled me so much,
Oh my god…
The market made top when I bought
and low when i sold.
Didn't understand the move of the market.
Oh my god…
Took advice from very random sources
Didn't try to study or understand the behavior of the market.
Listened to the herd and invested in penny stocks,
And in the process lost so much money
Oh my god… O my stock market,
O my stock market i haven't lost hope,
Inspite of frequent rise and fall
Oh my god…
In the process to understand the reason of rise and fall.
And the Bull and the Bear Market
I became a donkey
Oh my god..
When i made a loss
i realised and then i decided to say good bye to trading
Got out of penny stocks Invested through
Mutual Funds Earned so much money
Oh my god!
Vijay Kedia's Investment Strategy
Vijay Kedia faithfully follows the SMILE principle in his investment approach, an acronym standing for Small in size, Medium in experience, Large in aspiration, and Extra-large in market potential.
His advice is to put money into businesses that have a strong and ethical leadership team, and that are projected to surpass their competition and the overall economy over the next decade or so.
While he acknowledges the role of fortune in stock market investments, he insists that knowledge, bravery, and patience are the fundamental elements. For the past three decades, he has remained fully invested in his investment career.
"One should scout for companies which have good management… Find very good management, very honest management and see the product in which the management is going to grow, going to outperform its peers and the economy… invest in those companies for the next 10-15 years, and you cannot go wrong."

Vijay Kedia
The above table gives details of Vijay Kedia portfolio of Stocks as per recent exchange fillings.
Vijay Kedia's total portfolio net worth is around 1000 crore rupees. Over the years Vijay Kedia had a lot of multi-bagger stocks like Vaibhav Global and Cera sanitaryware which has given him outstanding returns.
There was news in June 2020 that Vijay Kedia has picked up 300000 shares of Ramco Systems at around 88 rupees per share.
Consider reading – Top FII investors in India and their stock holdings
Vijay Kedia's Famous Quotes
The market rewards you as per your perception of the market. If you treat it as a gambling den, it will prove a gamble for you.

The desire to become a millionaire overnight is the root cause of failures in the stock market.

Rome was not built in a day, but Hiroshima & Nagasaki were destroyed in a day

Investing is like Yoga. Body, mind, and soul have to be aligned.

My mantra for long term investing: Invest like a bull, sit like a bear & watch like an eagle.

Chase the story behind the stock, not the money on the table. The money will make you rich, but the story will make you wealthy.

A bull market is very much like being in love. You don't realize it's value till it's gone.

Your investment belongs to the market and your profit belongs to you.

When kids come on the dance floor, it's time for elders to go to bed.

The whole purpose of choosing to invest as a career is to let the management be constantly worried about his company and let yourself sip your wine. But the opposite happens.

When we are right, we earn. When we are wrong, we learn.

The market rewards you as per your perception.

No academic degree can guarantee your success in the stock market.

Read not only between the lines but also what is not written.

You only learn how to walk by falling.

If you keep trying yo hit four but you keep on getting only one run. Then chances are when you will hit a six you will get caught.

Don't always trust what you see. In a bull market, even ducks look like a swan.

Regret is a lifestyle disease of equity investing.

In the market, stupid action doesn't have an equal but severe opposite reaction.

Don't learn literature from a history teacher.

Better to lose money in a good company rather than making money in a bad one.

Trading is injurious to your wealth. If you are smoking you may die in 20-30 years whereas by trading, this may happen the very next day.

If the management has not performed well in their good time in the past, chances are they will not perform well in their good times in the future too.

There is large-cap, mid-cap, small-cap. There is also a "BHANGAAR CAP". More than 4000 out of 6000 companies fit in that category. They show up only in good times. Be careful.

Understanding yourself first is most important before understanding the market.

Biggest learning about savings can be learned from your cell phone when its battery is running out.
FAQs on Vijay Kedia Portfolio of Stocks
What is Vijay Kedia's total net worth?

Vijay Kedia's net worth as of 2022 is approx. 600 cr.

Which Stock Vijay Kedia recently bought?

Ramco systems. Vijay Kedia recently bought 300000 shares of Ramco Systems at around 88 rupees per share.

What is Vijay Kedia's investment strategy?

Vijay Kedia's investment strategy is known as SMILE.
SMILE  is interpreted as – little in size, Medium in expertise, a giant in aspiration, and Extra-large in market potential