MamaEarth IPO Dates, Price Band, Valuation, GMP, and Full Details – Should You Invest?
This post was most recently updated on October 28th, 2023
Mama Earth, one of India's leading direct-to-consumer (D2C) brands for natural and organic personal care products, is set to launch its initial public offering (IPO) on October 31, 2023. The company, which owns popular brands like Mamaearth, The Derma Co, and BBlunt, has filed its draft red herring prospectus (DRHP) with the Securities and Exchange Board of India (SEBI) on December 20, 2022.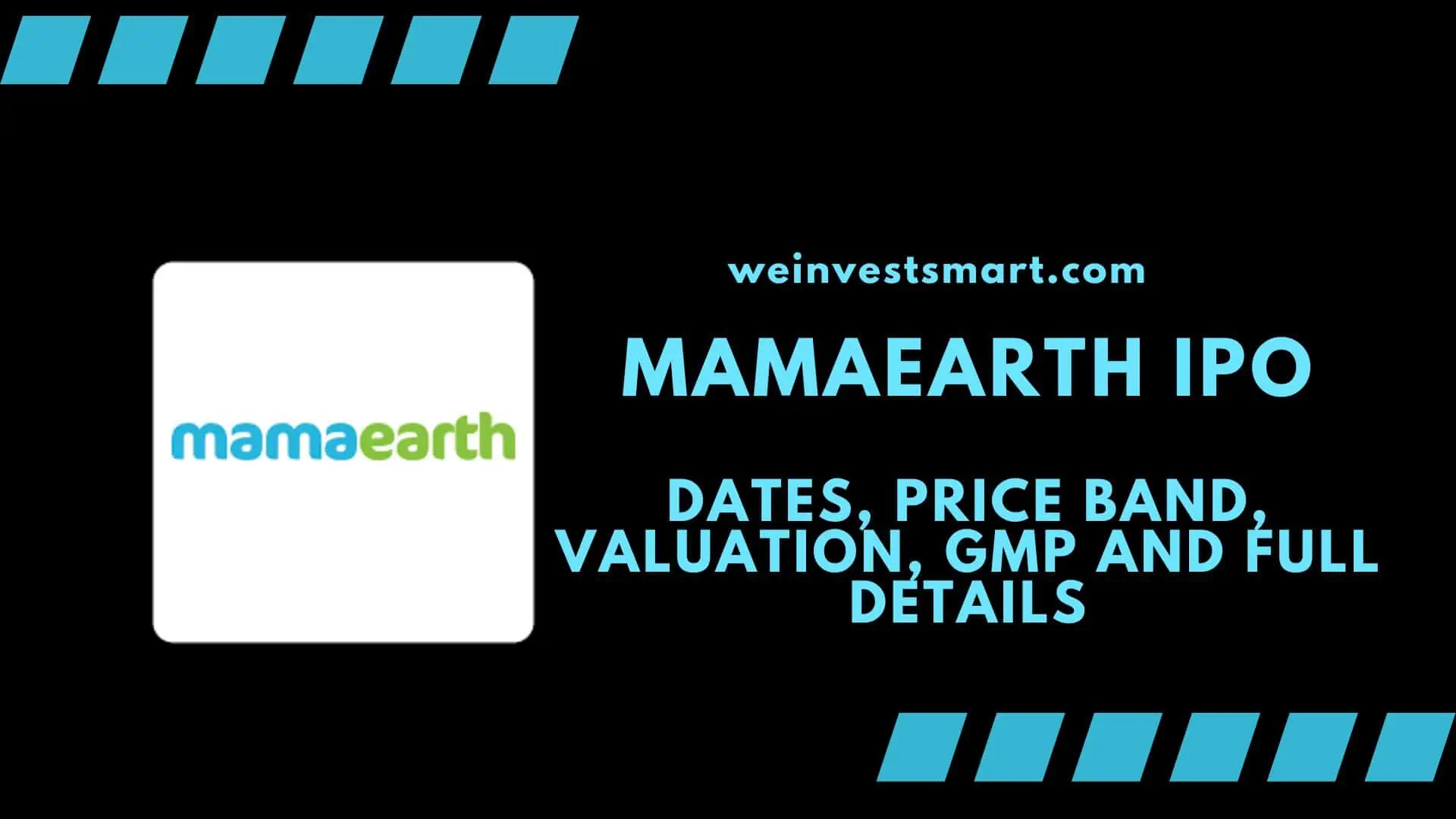 In this blog post, we will provide you with some key details about the Mamaearth IPO dates, price band, Valuation, financial performance, growth prospects, competitors, and SWOT analysis. We will also give you our recommendation on whether you should invest in Mamaearth IPO or not.
Consider reading: Best Blue Chip Stocks in India
MamaEarth IPO Key Details: Dates, Price Band and Valuation
According to the DRHP, the MamaEarth IPO will consist of a fresh issue of equity shares worth Rs 400 crore and an offer for sale (OFS) of up to 46.8 million shares by the promoters and existing investors. The company has fixed the price band for the IPO at Rs 308-324 per share.
The MamaEarth IPO will open for subscription on October 31 and close on November 2. The anchor book of the offer will open for a day on October 30.
The company has reserved not less than 75% of the shares in the public issue for qualified institutional buyers (QIBs), not more than 15% for non-institutional investors (NIIs), and not more than 10% for retail investors. A discount of Rs 30 per share is being offered to eligible employees bidding in the employee reserve portion.
On the upper price band, the firm will raise around Rs 1701.44 crore. With this, MamaEarth's valuation stood at Rs 10424.53 crore.
The table below summarizes some of the key details of the MamaEarth IPO:
| | |
| --- | --- |
| Issue Type | Book Built Issue IPO |
| Issue Size | Fresh Issue of Rs 400 crore + OFS of up to 46.8 million shares |
| Face Value | Rs 10 per equity share |
| Price Band | Rs 308-324 per equity share |
| Market Lot | 46 shares |
| Minimum Order Quantity | 46 shares |
| Listing At | BSE, NSE |
| Issue Open Date | October 31, 2023 |
| Issue Close Date | November 2, 2023 |
Key details of the MamaEarth IPO
The company intends to use the net proceeds from the fresh issue for the following purposes:
Advertising expenses to improve brand awareness and visibility
Setting up new exclusive brand outlets
Investment in its subsidiary BBlunt for setting up new salons
General corporate purposes
Inorganic acquisition
The company has appointed Kotak Mahindra Capital Company, Citigroup Global Markets India, JM Financial, and JP Morgan India as the book-running lead managers for the issue.
Consider reading: Tata Technologies IPO details
MamaEarth Company Overview and History
MamaEarth was founded in 2016 by husband-wife duo Varun and Ghazal Alagh as a brand for baby care products. The idea came from their personal experience of looking for natural and toxin-free products for their newborn baby, but finding limited options in the Indian market. They decided to create their own products that would be safe for babies as well as the environment.
The company launched its first product, a mosquito repellent for babies, in September 2016. Since then, it has expanded its product portfolio to include skincare, haircare, wellness, and personal care products for adults as well. The company operates under a 'house of brands' architecture, with six brands under its umbrella: Mamaearth, The Derma Co, Aqualogica, Ayuga, BBlunt, and Dr Sheth's.
MamaEarth is distinguished by its focus on natural and organic ingredients that are free from harmful chemicals like parabens, sulfates, mineral oil, etc. The company claims that all its products are certified by Made Safe, a US-based non-profit organization that verifies the safety of personal care products. The company also follows eco-friendly practices like being plastic-negative (recycling more plastic than it uses), planting trees to offset its carbon footprint, and using biodegradable packaging.
Mama Earth sells its products primarily through online channels like its own website and e-commerce platforms like Amazon, Nykaa, Flipkart, etc. The company also has a presence in offline retail stores across India through partnerships with distributors and retailers. The company has also ventured into international markets like UAE and Singapore.
MamaEarth has grown rapidly since its inception and has achieved several milestones along the way. Some of them are:
In January 2022, it became the first unicorn of the year with a valuation of $1.07 billion after raising $52 million in a Series F round led by Sequoia Capital.
In December 2022, it filed its DRHP with SEBI for an IPO worth Rs 2,900 crore.
In October 2022, it crossed Rs 700 crore in annualized revenue run rate.
In September 2022, it launched its first TV commercial featuring Bollywood actress Sara Ali Khan as its brand ambassador.
In May 2022, it acquired skincare brand Dr Sheth's for Rs 280 crore.
In February 2022, it acquired haircare brand BBlunt for Rs 1,400 crore.
In January 2022, it launched its wellness category with products like immunity boosters, stress relievers, and sleep inducers.
In December 2021, it acquired parenting platform Momspresso for an undisclosed amount.
In July 2021, it raised $50 million in a Series C round led by Sofina Ventures at a valuation of $730 million.
In January 2020, it raised $18 million in a Series B round led by Sequoia Capital at a valuation of $100 million.
In September 2018, it raised $4 million in a Series A round led by Fireside Ventures and Stellaris Venture Partners.
In April 2018, it raised $250,000 from Bollywood actress Shilpa Shetty Kundra as an angel investor.
In September 2017, it raised $1 million in a seed round from Fireside Ventures.
MamaEarth Company Financials
Mama Earth has shown impressive financial performance in the last few years. The company has reported a strong growth in its revenue and has also turned profitable in FY22. The table below shows the consolidated financial statements of the company for the last three fiscal years and the six months ended September 30, 2022:
| Particulars | FY20 | FY21 | FY22 | H1 FY23 |
| --- | --- | --- | --- | --- |
| Revenue from Operations (in Rs crore) | 109.8 | 932.0 | 1,493.0 | 722.5 |
| Other Income (in Rs crore) | 0.6 | 0.9 | 22.5 | 10.9 |
| Total Income (in Rs crore) | 110.4 | 932.9 | 1,515.5 | 733.4 |
| Total Expenses (in Rs crore) | 118.4 | 942.0 | 1,502.3 | 729.8 |
| Profit/(Loss) before Tax (in Rs crore) | -8.0 | -9.1 | 13.2 | 3.6 |
| Tax Expense (in Rs crore) | -2.1 | -4.2 | -0.8 | -0.0 |
| Profit/(Loss) after Tax (in Rs crore) | -5.9 | -4.9 | 14.0 | 3.6 |
MamaEarth Company Financials
MamaEarth has reported a compound annual growth rate (CAGR) of 282% in its revenue from operations from FY20 to FY22. The company has also improved its profitability margin from -5% in FY20 to +1% in FY22.
The company has attributed its revenue growth to the following factors:
Increase in demand for natural and organic personal care products
Expansion of product portfolio across categories and brands
Increase in online sales through e-commerce platforms and own website
Increase in offline sales through retail stores and distributors
Entry into new geographies like UAE and Singapore
The company has also improved its operational efficiency by optimizing its cost structure and enhancing its gross margin. The company has reduced its cost of materials consumed as a percentage of revenue from operations from 35% in FY20 to 30% in FY22. The company has also increased its gross margin from 65% in FY20 to 70% in FY22.
The company has also invested in advertising and promotional activities to increase its brand awareness and visibility among consumers. The company has increased its advertising expenses as a percentage of revenue from operations from 45% in FY20 to 36% in FY22.
MamaEarth's Competitors
Mama Earth is a prominent player in India's bustling personal care sector, confronting challenges from numerous entities both in the digital and traditional realms. Some of its primary competitors include:
Nykaa: A flagship online beauty platform in India, Nykaa offers an extensive array of products from makeup to wellness. Notably, they've launched their own brands, such as Nykaa Cosmetics and Kay Beauty.
Plum: An online-centric brand, Plum delivers natural, vegan skincare and haircare solutions. It boasts of being India's inaugural 100% vegan beauty brand with over a million dedicated users.
WOW Skin Science: A direct-to-consumer brand, WOW provides natural, organic solutions for skincare, haircare, and more. Their products stand out for being free from certain additives like parabens and sulfates.
Purplle: An expansive online beauty portal, Purplle retails products from over 600 brands, spanning various categories. They also spotlight their in-house brands such as Good Vibes and Stay Quirky.
Biotique: An enduring brand, Biotique champions ayurvedic products for diverse care needs. Their offerings blend traditional Indian recipes with natural ingredients.
MamaEarth's Growth Prospects
MamaEarth's trajectory in the personal care niche seems promising, underpinned by its robust product range, devoted customer base, adept online strategies, and green initiatives. Some indicators of its growth promise are:
Organic Appeal: Mama Earth aligns with the escalating demand for natural, organic products. Forecasts from RedSeer Consulting suggest the natural personal care sector in India could witness robust growth in the coming years.
Diverse Offerings & Global Outreach: Mama Earth has broadened its offerings, moving from baby products to an all-encompassing range. Additionally, their footprint now extends to regions like the UAE and Singapore.
Digital Mastery: With a commanding online presence, Mama Earth harnesses e-commerce channels to connect with its Indian audience. Partnerships with giants like Amazon and Nykaa, coupled with effective digital marketing, amplify its reach.
Stable Financials: A commendable accomplishment for direct-to-consumer brands, Mama Earth declared profitability and positive cash flow in FY22, indicating its financial solidity in the market.
In conclusion, MamaEarth's standing in India's personal care sector remains strong, and its future appears optimistic amidst challenges and competition.
MamaEarth IPO SWOT Analysis
Here is a quick SWOT Analysis of MamaEarth IPO:
Strengths:
Eco-centric Product Strategy: Mama Earth emphasizes natural and organic ingredients, eschewing harmful chemicals. Their eco-friendly ethos, from being plastic-negative to using biodegradable packaging, distinguishes them in the market.
Certifications and Customer Loyalty: With "Made Safe" certification, Mama Earth ensures product safety and enhances brand trustworthiness. This has led to significant customer loyalty and retention.
Dynamic Product Portfolio: Spanning skincare to wellness, Mama Earth's wide-ranging product catalog is complemented by regular new launches informed by customer feedback and market trends.
Digital Prowess: Their robust online presence, partnerships with e-commerce platforms, and digital marketing expertise ensures high visibility and outreach.
Weaknesses:
Elevated Marketing Expenditure: In FY22, advertising costs stood at 40% of revenue. This could indicate an over-reliance on marketing to fuel sales.
E-commerce Dependency: Their primary sales come via online channels, subjecting the brand to e-commerce related risks, from logistical challenges to cyber threats.
Regulatory Challenges: The personal care industry is stringently regulated. Mama Earth may encounter legal hurdles if they miss or misinterpret these regulations.
Marketplace Competition: Prominent brands like Nykaa, Himalaya, and Plum offer stiff competition, possessing greater brand recall and wider distribution networks.
Opportunities:
Green Consumerism Trend: The surge in demand for natural and organic personal care products positions Mama Earth advantageously.
Diversification and Global Expansion: Expanding the product range and entering markets like the US or UK can amplify growth.
Brick-and-Mortar Potential: By increasing their physical store presence and integrating online-offline experiences, they can enhance customer engagement.
Growth via Acquisitions: Leveraging financial health, Mama Earth could consider acquisitions or investments aligning with their brand ethos.
Threats:
Intensified Competition: Both established and emerging brands in the personal care domain pose a continuous threat.
Evolving Consumer Preferences: Discerning customers expect top-notch quality and service; any shortfall can lead to brand switching.
Quality Control: Natural ingredients can vary in quality and may face issues like contamination.
Potential Litigations: Various legal disputes from stakeholders can impact the brand's reputation and financials.
MamaEarth IPO GMP
The Mamaearth IPO GMP aka Grey Market Premium is Rs 30 as of October 26, 2023, indicating a 10% gain on the listing day.
MamaEarth IPO Investment Recommendation
After careful consideration of the SWOT analysis for MamaEarth IPO, our recommendation is as follows:
MamaEarth presents a compelling investment proposition in the burgeoning personal care sector. With its robust emphasis on natural, eco-friendly products spanning diverse categories from skincare to wellness, the brand has carved a distinctive niche. Their financial performance, marked by profitability and positive cash flow in FY22 coupled with sustained revenue growth, underscores the company's robust business model.
Noteworthy strengths such as industry certifications, earned customer trust, continuous innovation, and a dominant online footprint further bolster its market positioning. Furthermore, untapped avenues in product diversification, global market penetration, bolstering offline presence, and strategic acquisitions hint at a promising growth trajectory.
Nevertheless, potential investors should weigh in on the challenges. The elevated advertising spending, pronounced reliance on online sales, ever-evolving regulatory landscape, and intensifying competition are undeniable risks. Coupled with this, evolving customer tastes, potential quality issues inherent in natural products, and potential legal entanglements could pose hurdles.
In conclusion, for those seeking a long-term investment in a growth-oriented company in the personal care domain, MamaEarth IPO appears promising. However, as with all investments, it's imperative to exercise due diligence and be cognizant of associated risks.
Final Thoughts on MamaEarth IPO
MamaEarth, a frontrunner in India's D2C personal care market, emphasizes natural and organic products and is gearing up for its IPO on October 31, 2023, at a share price range of Rs 308-324. Their financial achievements are evident in the net profit of Rs 14 crore against a revenue of Rs 1,493 crore in FY22, backed by a sustained positive operational cash flow.
With its eco-conscious brand image, MamaEarth offers a broad spectrum of products, spanning skincare to wellness. The brand's market credibility is reinforced by its certifications, consistent customer loyalty, innovative product line, and strong online visibility. The potential for growth is significant, with opportunities for portfolio expansion, geographical outreach, and potential strategic acquisitions.
However, every investment is accompanied by challenges. Mama Earth's substantial marketing costs, online sales dependency, regulatory maze, and fierce competition pose as potential roadblocks. Also, navigating evolving consumer preferences, maintaining consistent product quality, and potential legal challenges are part of the journey.
In light of the above, we advise prospective investors to consider MamaEarth IPO for long-term investment. The company showcases promise for future shareholder value. Nevertheless, a thorough risk assessment and individual due diligence are indispensable before making any investment decision.