TCS buyback 2022 – Offer details , Record date and acceptance ratio
Tata Consultancy service – TCS has come with a mega buyback offer in 2022 worth 18000 crores. The news of TCS buyback 2022 has created huge excitement amongst retail investors as it provides a great opportunity for them to possibly earn 10-20% return in a matter of a few months by investing in a blue chip stock.
TCS buyback 2022 offer details
TCS board on 12th Jan 2022 approved a proposal to buy back up to 4,00,00,000 Stocks for an amount not exceeding Rs 18,000 crore at Rs. 4,500 per share. The stock price of the company on 12th Jan 2022, Wednesday closed at Rs. 3857 which means that the buy-back will be executed at a premium of Rs. 643 or 16.6% from the last closing stock price.
| | |
| --- | --- |
| Buyback type | Tender Offer |
| Buyback offer amount | Rs 18000 crore |
| Buyback offer size | 1.08% of the total paid-up capital |
| Buyback number of shares | 4,00,00,000 |
| Buyback price | Rs 4500 |
| Record date | 23rd February 2022 |
TCS buyback 2022
TCS buyback 2022 timeline
Here is a detailed timeline for the TCS Buyback in 2022.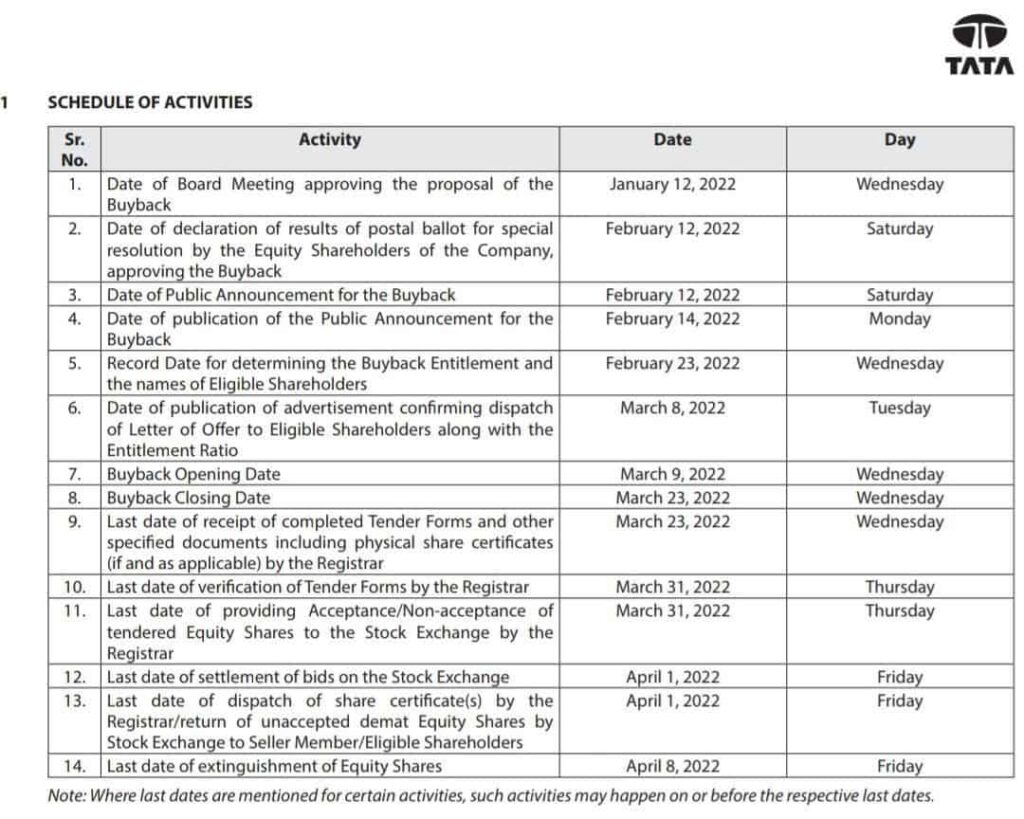 TCS buyback history
This is TCS's 4th buyback since 2017 and the first by any Information Technology firm in 2022.
TCS had earlier approved stock buy-backs which were worth Rs 16,000 crore each in 2017, 2018, and 2020 which was a part of their long-term principal allotment policy to return excess cash to shareholders.
Let's look at how TCS share price has performed in the last 4 TCS buybacks –
Year
Date of BuyBack
Announcement
Price on
Announcement
Day
BuyBack
Price
Record date
of Buy-Back
Price on
Buyback date
Increase in
Stock Price
2017
16th February
2400
2850
8th May
2525
5%
2018
12th June
1746
2100
18th August
2070
19%
2020
5th October
2523
3000
28th November
2873
14%
2022
12th January
3859
4500
23rd February
Awaited
NA
TCS buyback history
If you see from the above data then you can see that TCS has always given a very good return on the share price in all of the previous TCS buybacks. This is the reason the retail investors are very excited about. The above data is just about the increase of share price, if you would have bought the TCS share because of TCS buyback then you would earn a lot more than the actual share price increase.
Before we understand TCS buyback in detail, first let's understand what is share buyback programs and how does it work?
What is a Share Buyback?
A Share Buyback is when a company buys back its own outstanding shares from stakeholders to reduce the number of stocks accessible in the open market which is also an alternative to return money to investors.
Companies buy back stocks to increase the demand in the market, thereby increasing the stock value, Earning Per Share (EPS), and ROE of the company. A Stock buy-back gives a good image to the company showing that the company has very good cash in hand to take care of the company's needs in near future.
What is Acceptance Ratio in share buyback?
The acceptance ratio in the share buyback program is the number of shares accepted in a buyback offer as compared to the total number of shares tendered. As per SEBI rules, regulations, circulars, etc. 15 % of the total buyback size is reserved for small investors(retail investors) with share holdings up to Rs 2 lakh in the company.
There are normally 2 types of categories in the share buyback programs i.e. Retail category and general category.
Retail Category – retail category refers to retail investors who hold share value worth less than 2 lakh rupees considering the buyback price.
General category – General category is for the rest of the shareholders of the company like promoters, FIIs, Mutual funds, etc.
TCS buyback acceptance ratio
Now that we understand what is buyback acceptance ratio, there is an obvious question that comes to mind what will be the TCS buyback acceptance ratio in 2022?
To answer this question we need to look at the historic data. In each of the last 3 TCS buyback offers the retail acceptance ratio was 100%. This means that any retail investor who had shares worth less than 2 lakhs rupees as the TCS buyback price set at that time, all of their shares were accepted in the buyback program.
This is hugely positive for all the retail investors, If you buy TCS share now as of 30th Jan with a share price of approx. 3700 per share then you can earn a profit of Rs 800 per share! That's 20%+ profit in a matter of few months!.
Even if the acceptance ratio is not 100% and but around 50-70% then also you will have a decent gain in your investment amount which is close to 10%.

in the above table, I have tried to explain how much you can gain from TCS buyback 2022 considering the various acceptance ratio possibilities. If we look at the TCS buyback acceptance ratio history then it's quite like that the acceptance ratio will be around 80-100%.
This will mean that you will have a gain of 15-20% if you purchase the TCS share around 3700 or below. The return in the above table assumes that the TCS share price remains 3700 or above after the buyback process.
Update as of 8th March 2022 – TCS entitlement ratio has been published by the company as 14% which is a huge disappointment for the retail investors. Retail investors have expected the entitlement ratio to be around 30-40%.
What is the Entitlement ratio in TCS buyback?
Entitlement ratio means that – how many shares you are entitled to tender during the buyback. The entitled shares are definite to be accepted by the company. The actual buyback of shares will be more than entitled shares as normally not all the investors opt for share buybacks.
TCS buyback strategy for 2022
Now that we have understood we can have a possible 15% + return on our investment in the TCS buyback 2022. let's build a strategy that can help you in this process.
Buy 44 or less TCS stocks in the price range of 3500-3700. Since the market has been volatile lately – TCS stock has already fallen around 10% from the recent peak. So you are already getting TCS in a decent price range(as of 30th Jan 2022).
Keep an eye of the TCS buyback 2022 record date which will be announced very soon.
Understand the share buyback process with your broker – every broker(like zerodha, ICICI direct etc.) have a dedicated screen handling the buyback of stocks.
Tender the shares in the TCS buyback 2022 window – once the record date is finalised there will be a buyback window which will be announced by the company for the shareholders to tender their shares. This is key as you need to be aware when to tender your shares.
FAQs on TCS buyback 2022
How many shares of TCS I should purchase for TCS buyback 2022?
It is recommended that you purchase 44 or less than 44 TCS shares to qualify as a retail investor in TCS buyback 2022
What is the record date for TCS buyback 2022?
The record date for the buyback is 23rd February 2022.
What will the acceptance ratio be for the TCS buyback in 2022?
The acceptance ratio is expected to be around 70-100% in the buyback.
What is the TCS buyback acceptance ratio history?
In the previous buybacks in 2017, 2018, and 2020 the acceptance ratio was 100%.
When can I buy TCS shares to qualify for the buyback?
Before the record date, you should buy the TCS shares to qualify for the buyback.
Can I buy shares from multiple accounts to increase my chances of getting more benefits?
You can buy TCS shares from multiple accounts but please make sure that you purchase 44 shares or less including all of your accounts for a single PAN. You shouldn't buy more than 44 shares including all of your accounts.
What can I do to profit more from TCS buyback 2022?
If you have the funds, you can buy TCS shares from your family member's accounts to get more benefits out of the TCS buyback.
How can I get TCS buyback?
In order to be eligible to participate in the TCS buyback then you need to buy the TCS shares before the record date of the buyback program.
When TCS buyback will start in 2022?
The TCS buyback process has started on 12th January 2022 when TCS announced the buyback program in their quarterly earnings.
The actual share buyback process will start from 9th March which is set for the buyback start date.
If you wish to participate in the buyback process and eligible to tender your shares then please make sure to apply for buyback process by 23 March 2022 which is the last date for the TCS buyback in 2022.
Can I buy TCS shares now for buyback?
Yes. You can buy shares before the record date for the buyback to be eligible for the buyback program in 2022.