This post was most recently updated on November 22nd, 2022
The Voluntary Provident Fund is the preferred choice for salaried employees as it gives higher returns than PPF. Voluntary Provident Fund allows employees to put additional self-contribution to their EPF account thus works best for salaried employees to manage a single PF account.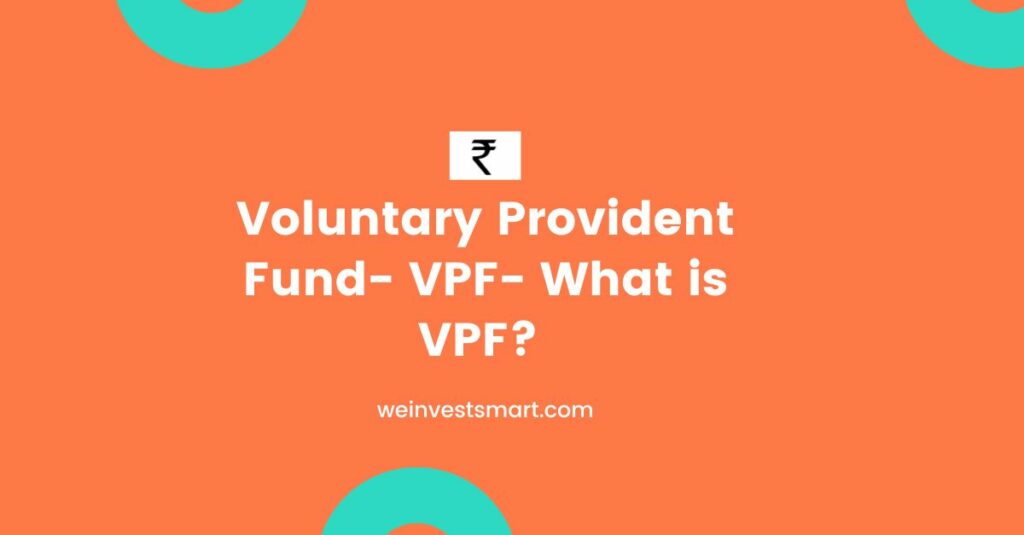 What is Voluntary Provident Fund (VPF)?
A voluntary Provident Fund (VPF) is a voluntary fund contribution from the employee towards his/her provident fund account. This contribution is beyond the 12% contribution by an employee towards his EPF. The maximum contribution is up to 100% of his Basic Salary and Dearness Allowance. Interest is earned at the same rate as the EPF. VPF is managed by EPFO
Consider reading – 13 safe investments with high returns in India
Who can invest in Voluntary Provident Fund?
VPF is an extension of the EPF. The VPF option is available only to salaried individuals who receive their monthly salary payments through a specific salary account and contribute to EPF.
What are the Benefits of the Voluntary Provident Fund?
There are many benefits of VPF.
1. Excellent Tax saver via the EEE category
The VPF falls under the EEE category ( EEE – exempt on contribution; exempt from the principal; exempt on interest) making it an excellent tax-saving option.
2. Safe Investment Option
The scheme is managed by EPFO under the Govt of India undertaking with a fixed interest rate. Hence, it is considered a risk-free investment.
3. Easy to Apply
Salaried employees can use their EPF account for contributions as part of their VPF investment. They can just simply contact their salary department to mention the amount they want to contribute toward the VPF.
4. High returns than PPF
Currently, the interest for EPF / VPF is accrued at 8.10% per annum under this scheme. Contributions up to 1.5 lakhs PA and interest accrued are exempt from tax under Section 80C, resulting in higher returns from a long-term perspective. VPF offers higher returns than PPF as it is part of EPF.
Consider reading – Income tax exemptions and deductions available for salaried employees
5. Easily transferable
Just like EPF, It is really easy to transfer the VPF account(part of the EPF account) when you switch jobs as the UAN reference remains unique for a subscriber.
What are the withdrawal Rules for Voluntary Provident Fund?
You can do a partial withdrawal of VPF as a loan. If the withdrawal was made before 5 years you need to pay taxes for the interest earned for the 5-year period. The interest income gets added to the total income.
In case of resignation or termination from service:- When the employee either resigns or gets terminated from service then the final maturity amount is paid to him/her.
In case of death while in service – In case of the untimely death of the VPF subscriber, the VPF amount is paid to the nominee of the subscriber. If there is no nominee for the EPF/VPF account then the amount is paid to the legal heir of the subscriber.
The VPF fund is mainly popular as the accumulated money can be withdrawn at any given time. You can withdraw from the VPF account for any of the reasons mentioned below:-
Payments of medical bills for the individual and his kin
Cost-intensive events like higher education and marriage
Payments for house construction or purchase of new land/house
VPF interest rate history
Since VPF has the same interest as EPF; below is the interest history for EPF / VPF –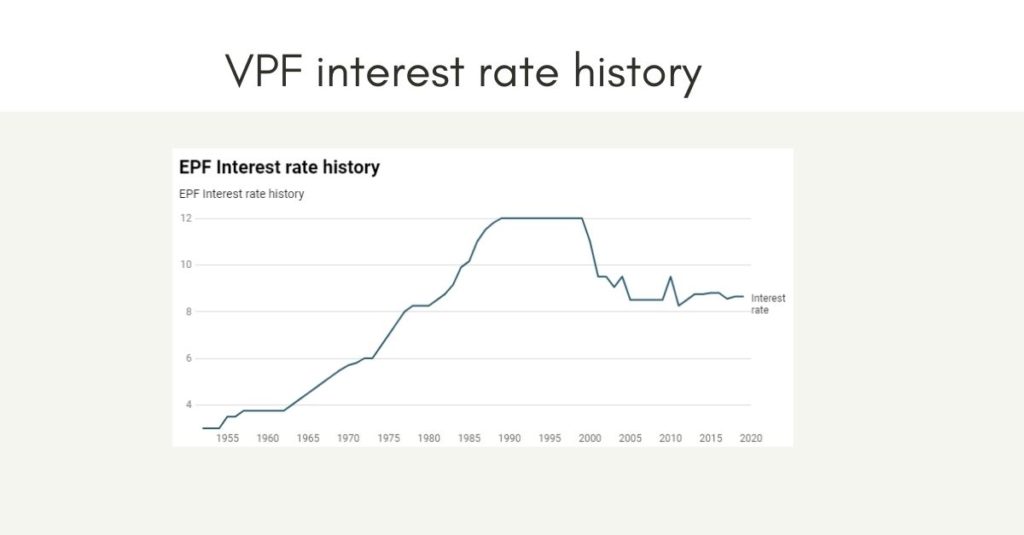 Why should you invest in Voluntary Provident Fund?
As VPF is managed by the Government, there are many benefits to investing in VPF. Here is a list of benefits –

1. It is a trustworthy scheme to invest in.
2. The process of applying for VPF is very easy. One just needs to send the request to the HR team and fill up a registration form.
3. The amount invested in it can be easily withdrawn
4. The amount invested in VPF is eligible for a tax deduction.
5. Withdrawals after the 5-year lock-in period are completely tax-free.
6. You can contribute a maximum of 100% of the basic salary and dearness allowance which is more than the conventional PF (Provident Fund) contribution of 12% of one's basic salary.
7. It generates a higher yield as compared to PPF.VPF Interest rate is equal to that of the PF, and currently is 8.10%(For the year 2022-2023).
8. There is income tax exemption at all stages -contribution, investment, accumulation, and returns and also at the time of withdrawal.
9. Employees can access the VPF money for reasons like marriage, house purchase, children's education, etc.
VPF FAQs
How to check the balance in the VPF account?

You can check your VPF passbook along with your EPF passbook here – https://passbook.epfindia.gov.in/MemberPassBook/Login

Is VPF a good investment?

VPF is excellent if you are looking for safe and secure returns which is better than normal bank fixed deposits.

Is VPF better than PPF?

Yes VPF is better than PPF is you are a salaried employee and contribute to EPF. VPF gives a higher rate of interest compared to PPF. PPF currently offers a 7.1% interest rate but VPF offers an 8.65% interest rate in July 2020. Also, You can withdraw your amount in VPF along with your EPF investments, unlike EPF where you have a lock-in period of 15 years.

Which is better NPS or VPF?

NPS and VPF are investment options targeted for retirement. NPS offers subscribers to opt for equity options as part of fund selection which gives higher returns over the long term. VPF offers safe and stable returns consistently.

So if you are near to your retirement then it is best to stick to VPF for your investments but if you have a longer retirement time then NPS will be a better choice for you.

Is VPF exempted from tax?

Yes VPF contributions can be claimed as part of 80C tax exemptions. Also, any gains from VPF is exempted from tax as per the EEE mechanism.

Where can I open a VPF account?

You don't need to create a separate account for VPF. You can request your employer to add your VPF contributions to your existing EPF account.

Is VPF better than mutual funds?

VPF is a stable high yield fixed returns instrument that gives higher returns with EEE tax benefit but over the long term (10+ years) equity mutual funds have given far better returns than VPF so if your time horizon is less than 10 years then stock to VPF otherwise look for investments in equity mutual funds.

What is the latest VPF interest rate in 2022?

8.10% is the VPF interest rate as of October 2022.

What is the latest PPF interest rate in 2022?

7.10% is the PPF interest rate as of October 2022.