Kisan Vikas Patra – Eligibility, Interest Rate Calculator and Benefits in 2023
This post was most recently updated on May 6th, 2023
If you're looking for a safe and reliable investment option with guaranteed returns, Kisan Vikas Patra (KVP) could be a great choice. This savings scheme is backed by the Indian government and is popular among investors because it offers low risk and high returns. KVP has a fixed interest rate that is compounded annually, which can help you grow your savings over time. In this article, we'll take a closer look at Kisan Vikas Patra and its various features, including who is eligible to invest, how to calculate interest rates, advantages, disadvantages and the benefits of investing in this scheme.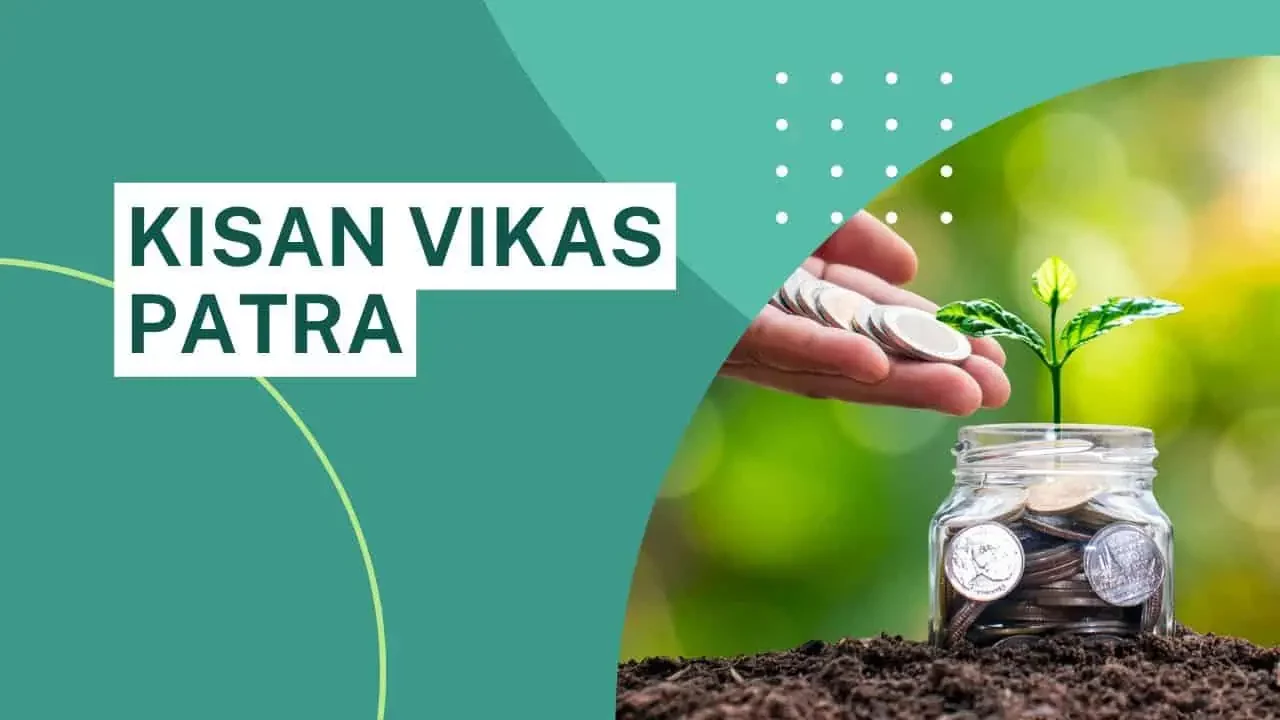 What is Kisan Vikas Patra?
Here are some key data points for Kisan Vikas Patra:
| Factor | Details |
| --- | --- |
| Eligibility Criteria | Available to all Indian residents, including minors and joint holders |
| Investment Amount | Minimum Rs. 1,000; no maximum limit |
| Investment Tenure | 124 months (10 years and 4 months) |
| Interest Rate | 7.5 % |
| Interest Rate Revised On | 1st April 2023 |
| Maturity Value | Rs. 2,000 for every Rs. 1,000 invested |
| Premature Withdrawal | Allowed after 2.5 years from the date of issue |
| Tax Benefits | No tax benefits under Section 80C of the Income Tax Act |
| Nomination | Available |
| Transferability | Not allowed |
| Risk | Low |
Kisan Vikas Patra Details
Note: The interest rate and other details of Kisan Vikas Patra are subject to change from time to time, so it's important to confirm the latest information before making any investment decisions.
Kisan Vikas Patra Interest Returns Calculator
Use the below Kisan Vikas Patra interest returns calculator to check how much return you can expect from your investments.
What are the Types Of Kisan Vikas Patra Scheme Accounts?
The KVP Scheme accounts are of three types:
Single Holder Type Certificate: This kind of certificate is issued to an adult for themself or on behalf of a minor or to a minor.
Joint 'A' Type Certificate: This type of certificate is issued jointly to two adults, payable to both the holders jointly or to the survivor.
Joint 'B' Type Certificate: This type of certificate is issued jointly to two adults, payable to either of the holders or to the survivor.
What Is The Eligibility Criteria For The Kisan Vikas Patra Scheme?
The following are the eligibility criteria for investing in the KVP scheme:
The applicant has to be an adult resident of India.
A parent/guardian may invest on behalf of a minor.
Hindu Undivided Families (HUFs) and Non-Resident Indians (NRIs) cannot invest in Kisan Vikas Patra.
What are the Advantages of the Kisan Vikas Patra/KVP Scheme?
The main benefits of Kisan Vikas Patra are:
Assured returns: Irrespective of market fluctuations, individuals who have put their money into this scheme would generate a guaranteed sum as the scheme is backed by Govt of India.
Compounding interest: The interest rate of the KVP Scheme tends to vary, and such variations depend on the year an individual invested in it. The rate of interest effective from 01/04/2023  is 7.5%. The interest accrued on the invested sum is compounded yearly, ensuring more returns to individuals.
Maturity time: The time horizon of the KVP scheme is 124 months. After completing the said period, the scheme matures and extends a corpus to a KVP scheme holder. In case, individuals decide to withdraw the proceeds generated later than the maturity period; the amount would accrue interest until it is withdrawn.
Cost of Investment: Individuals can deposit money into this scheme with as little as Rs. 1,000 and invest as much as they want to. However, the amount has to be a multiple of Rs. 1,000, and a sum over Rs. 50,000 would require PAN details and would be extended by a city's head post office.
Taxation method: An amount that is withdrawn post maturity is exempted from Tax Deducted at Source or TDS. However, the KVP scheme is not entitled to any tax deductions mentioned under Section 80C.
Nomination: Individuals can select a nominee in this scheme. All they would need to do is fill up a nomination form, offer the required details of their choice of nominees and submit it. Also, Individuals can even select a minor as their nominee.
Loan against a certificate: Individuals can avail of a loan against their investment in the Kisan Vikas Patra scheme. The KVP certificate would act as collateral while applying for a secured loan and individuals would be able to avail of a loan at a lower interest rate
Check the Latest small savings scheme interest rates in the Post Office.
What are the Disadvantages of Kisan Vikas Patra?
The Kisan Vikas Patra (KVP) is a small savings scheme offered by the Government of India, which allows individuals to invest a fixed amount of money and earn a fixed rate of interest over a set period of time. While the KVP can be a convenient and secure investment option, it also has some disadvantages to consider:
Low returns: The KVP offers a fixed rate of interest, which may be lower than other investment options such as mutual funds or stocks. This means that the returns on the KVP may not keep pace with inflation, which can erode the value of your investment over time.
Long lock-in period: The KVP has a long lock-in period, which means that the investment cannot be withdrawn before the maturity date. This can be a disadvantage for those who may need access to their funds before the end of the lock-in period.
Limited flexibility: The KVP is a fixed investment, which means that you cannot make additional contributions or change the investment amount once it is set. This can be a disadvantage for those who may want more flexibility in their investments.
Tax implications: Interest earned on the KVP is taxable, which can reduce the overall returns on the investment.
Consider reading – 13 Safe investment options with high returns
What are the Documents Required to Open a Kisan Vikas Patra account In 2023?
Eligible individuals can avail of the KVP scheme in 2023 by offering the required documents.
Here is a list of documents that are necessary for the same:
Form A must be duly submitted to an India Post Office branch or other specific authorized banks.
Form A1, if the application is extended through an agent.
Age proof (Passport, Aadhaar, PAN, etc.)
Address proof (Aadhaar, Passport, electricity bill, telephone bill, ration card, etc.)
Photo identification proof (Aadhaar, voter id, PAN, Passport, driving license, etc.)
How to Open Kisan Vikas Patra account?
KVP account can be opened in the Post office or any authorized bank. If you fulfil the eligibility criteria then you can go to the post office or the authorized bank and fill in the necessary forms to open the account.
What is the Withdrawal Procedure for Kisan Vikas Patra?
The withdrawal procedure for Kisan Vikas Patra (KVP) depends on the time period for which the investment has been held.
If you wish to withdraw your investment before maturity, you can do so after 2.5 years from the date of issue. However, the exact withdrawal amount will depend on the time period for which the investment has been held. If you withdraw before 3 years, you will not earn any interest, and you will only receive the principal amount invested. If you withdraw after 3 years but before maturity, you will be eligible for the accumulated interest up to that point, but a penalty will be levied.
To withdraw your KVP investment, you will need to fill out a withdrawal form, which is available at the post office or bank where you made the investment. You will also need to provide your original KVP certificate, along with a valid identity proof and address proof. Once the withdrawal form is processed and verified, the withdrawal amount will be credited to your bank account.
It's important to note that premature withdrawal of KVP investments can result in lower returns, so it's generally recommended to hold the investment until maturity, which is 10 years and 4 months from the date of issue.
What are the Premature Withdrawal Options available for Kisan Vikas Patra?
If an individual opts to withdraw their investment sum within a year of purchase, they will not accrue any interest on it. Rather, they would incur a penalty for it.
If an individual opts to withdraw their invested sum after one year, but before 2.5 years of purchase, they would receive a low rate of returns. No additional charges or penalties would be imposed on it.
If individuals decide to withdraw their investment from the Kisan Vikas Patra scheme after 2.5 years of availing it, they would receive the promised rate of returns and would not have to pay the penalty on it.
Individuals can encash their KVP certification, provided they go to a post office or a bank branch from where they purchased it in the first place. If an emergency arises, they can get the certification encashed from any post office or bank branch but only after availing the approval of the post manager or respective bank manager of the said institution.
Are KVP Certificates Transferrable?
Yes, KVP certificates are transferrable from one post office to another one, anywhere in India, and from one person to another.
In case of the latter, i.e. transfer from one person to another, the following cases are permissible, but a letter in this regard needs to be submitted:
Transfer from one owner to joint holders
Transfer from joint holders to one of the holders
Transfer from the name of the deceased to his legal heir
From the joint holder/s to the judge of law and also to other individual/s as ordered by the Court of Law
FAQs on Kisan Vika Patra
What is the interest rate for kisan vikas patra?

The latest interest rate for KVP effective from 01-04-2023 is 7.5%

How to buy kisan vikas patra / KVP online?

Unfortunately, the Kisan Vikas Patra certificate can not be purchased online. Investors will have to visit the post office or the authorized bank to purchase the Kisan Vikas Patra certificate.

What is kisan vikas patra / KVP maturity period?

As of April 2023; The maturity period for KVP is 120 months.

Is it good to invest in the Kisan Vikas Patra scheme?

If you are an ultra-conservative investor and do not want to take any risk whatsoever for your investments then you can consider investing in KVP for slightly higher interest rates than FD.

What are some disadvantages of Kisan Vikas Patra / KVP?

The main disadvantage of KVP is the maturity period, It's 10 yrs. Although you have an option for early withdrawal waiting for KVP to mature to get benefit is not suitable for an investor who is looking for good returns on his/her investment.

KVP is also not tax efficient i.e. any gains from KVP will be added to your income for tax calculation.

Is Kisan Vikas Patra better than FD?

If you compare KVP with FD then KVP offers a higher interest rate than FD but if you looking to invest in KVP for a premature withdrawal then the experience of premature withdrawal in case KVP is not simple. In the case of FD, you can withdraw your money at any time.