How to Buy Tesla Stock on eToro in 2023: Complete Details and Key Things to Watch Out
Tesla is one of the most popular and innovative companies in the world, producing electric vehicles, solar panels, batteries, and software. Many investors are interested in buying Tesla stock (TSLA) to benefit from its growth potential and vision. However, buying Tesla stock can be challenging for some people, especially if they live in countries where Tesla is not listed or have limited access to US stock markets. In this article, we will look at how to buy Tesla Stock on eToro.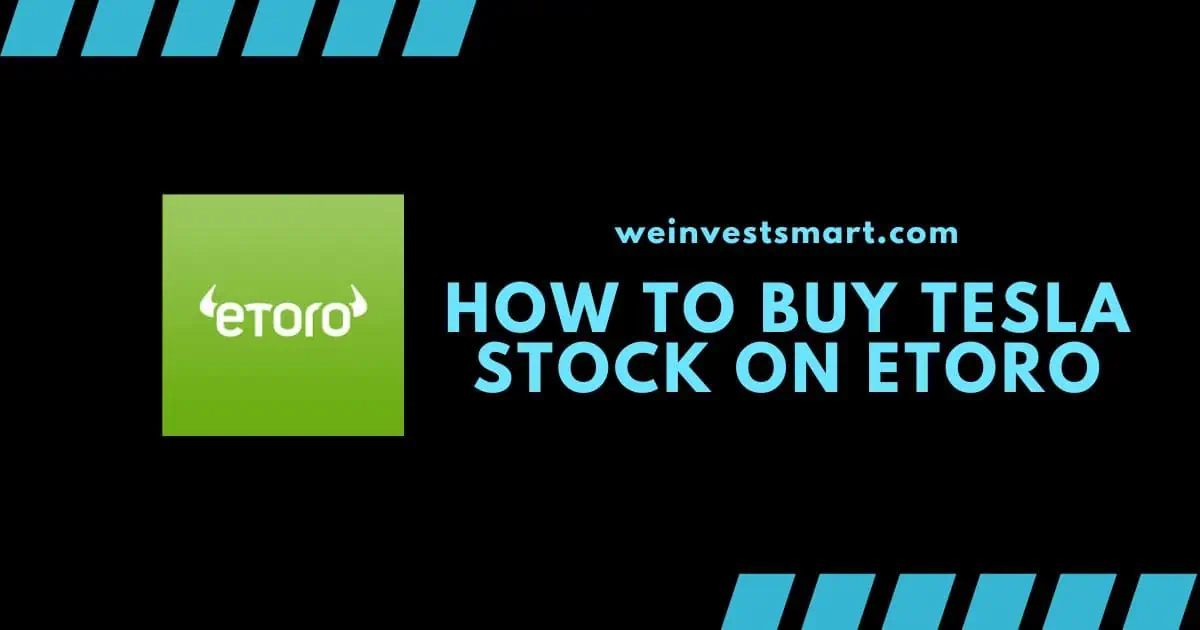 eToro is a global online trading platform that allows you to buy and sell stocks, cryptocurrencies, commodities, ETFs, and more. eToro is regulated by multiple authorities, such as the UK's Financial Conduct Authority (FCA) and the Australian Securities and Investments Commission (ASIC).
eToro also offers a social trading feature, where you can copy the trades of other successful investors or join a community of like-minded traders.
One of the main advantages of eToro is that it offers commission-free trading on stocks and ETFs. This means that you don't have to pay any fees when you buy or sell Tesla stock on eToro. You also don't have to worry about currency conversion fees, as eToro allows you to trade in your local currency.
Moreover, eToro supports fractional share trading, which means that you can buy as little as 0.001 of a Tesla share for as little as $0.25.
Consider reading: Stock Average Calculator
How to Buy Tesla Stock on eToro
If you want to buy Tesla stock on eToro, here are the steps you need to follow:
Sign up for an eToro account. You can do this by visiting eToro's website or downloading their app on your smartphone. You will need to provide some personal information, such as your name, email address, phone number, and country of residence. You will also need to verify your identity and address by uploading a copy of your ID and a proof of address document.
Fund your eToro account. You can deposit money into your eToro account using various methods, such as credit or debit card, bank transfer, PayPal, Skrill, Neteller, and more. The minimum deposit amount is $200 for most countries, but it may vary depending on your region and payment method. You can check the eToro fees page for more details.
Search for Tesla stock. Once you have funded your account, you can start trading on eToro. To find Tesla stock, you can use the search bar at the top of the screen and type in "Tesla" or "TSLA". You will see the Tesla stock page, where you can view its price chart, statistics, news, analysis, and social feed.
Buy Tesla stock. To buy Tesla stock on eToro, you need to click on the "Trade" button at the top right corner of the screen. A pop-up window will appear, where you can enter the amount of money or number of shares you want to invest in Tesla. You can also set some optional parameters, such as a stop loss, a take profit, or leverage (if you want to trade with margin). When you are ready, click on the "Open Trade" button to execute your order.
Monitor your Tesla investment. After you buy Tesla stock on eToro, you can track its performance on your portfolio page. You can see how much profit or loss you have made from your trade, as well as the current market value of your Tesla shares. You can also close your trade at any time by clicking on the "X" button next to it.
I hope this guide helps you buy Tesla stock on eToro. If you have any questions or feedback, please feel free to leave a comment below. Happy trading!
Key Things to Keep in Mind While Using eToro to Buy Tesla Stock
When you're thinking of buying Tesla stock via eToro, here are some friendly reminders:
Be Cautious with Volatility: Tesla stock can be like a roller coaster. Prices may rise or fall dramatically in a short span of time. This can be both exhilarating and nerve-wracking. To keep your investment journey smooth, only put in money you're okay with potentially losing and spread out your investments to not be overly reliant on Tesla.
Do Your Homework: eToro does offer a ton of helpful tools and insights, but it's always good to cross-reference. Dive deep into Tesla's official website, go through its financials, and catch up on recent news about the company and the electric vehicle market.
Leverage eToro's Social Side: One cool thing about eToro? You can peek at what other traders are up to. Features like CopyTrader allow you to mimic the trades of seasoned investors. But always remember, just because it works for one doesn't mean it'll work for all.
Keep an Eye on the Fees: Even though you don't pay commissions on eToro, there are still some charges to be aware of. From spreads (the gap between buying and selling prices) to the fees for holding leveraged positions overnight and some other standard charges, it's wise to familiarize yourself with these to avoid any surprises.
Closing Thoughts on How to Buy Tesla Stock on eToro
In conclusion, this article has shown you how to buy Tesla stock on eToro, a global online trading platform that offers commission-free trading on stocks and ETFs. You have learned the steps to sign up, fund your account, search for Tesla stock, and execute your trade.
You have also learned some tips and tricks to make the process smooth and hassle-free, such as using a demo account, doing your own research, using social trading features, and being aware of the fees and charges.
By following this guide, you can invest in one of the most innovative and influential companies in the world and enjoy the benefits of trading Tesla stock on eToro. Happy trading! 
Follow us on Twitter for the latest updates!
FAQs on How to Buy Tesla Stock on eToro
Can I buy Tesla shares with eToro?
Yes, you can buy Tesla shares with eToro. eToro offers access to a global market, allowing you to invest in Tesla from anywhere. With its user-friendly interface, both experienced and inexperienced traders can easily buy and sell Tesla stock. Start investing in Tesla today with eToro.
How do I buy Tesla stock directly?
To buy Tesla stock directly, follow these steps: 1. Choose a brokerage platform that allows direct stock purchases. 2. Open an account and complete the necessary paperwork. 3. Deposit funds into your account. 4. Search for Tesla's stock ticker symbol. 5. Enter the number of shares you want to purchase and place your order. Make sure to consider any fees or commissions.
Can you buy actual shares on eToro?
Yes, you can buy actual shares on eToro. However, it's important to note that eToro is not an exchange or market, so you can only buy and sell stocks within the eToro platform. Moving open positions to another broker or person is not possible.