This post was most recently updated on November 10th, 2022
With the use of the internet exploding day by day; everyone these days is looking for how to do LIC Premium Paid Certificate Download online.
Many Indians prefer to trust LIC as one of the best investment option considering it gives them tax benefits under section 80C of income tax law. If you have a LIC policy then you must know that it is mandatory to submit a LIC premium paid certificate as proof of investment to claim the tax benefits.
Most of the LIC policyholders in India are from smaller towns and they depend on the LIC agents to provide a LIC premium paid certificate for their LIC premiums. But many people miss realize that there is an easy and convenient way of not only paying LIC policy premiums online but also downloading the premium paid certificate.
In this article, we will go through simple and easy steps on how you can pay your LIC premiums online and LIC Premium Paid Certificate Download online.
Register Online for LIC e-Services
To register your LIC policy you just need to visit the LIC online portal.
Click on the 'New User' from the screen. You will get a screen like below to create your new LIC account.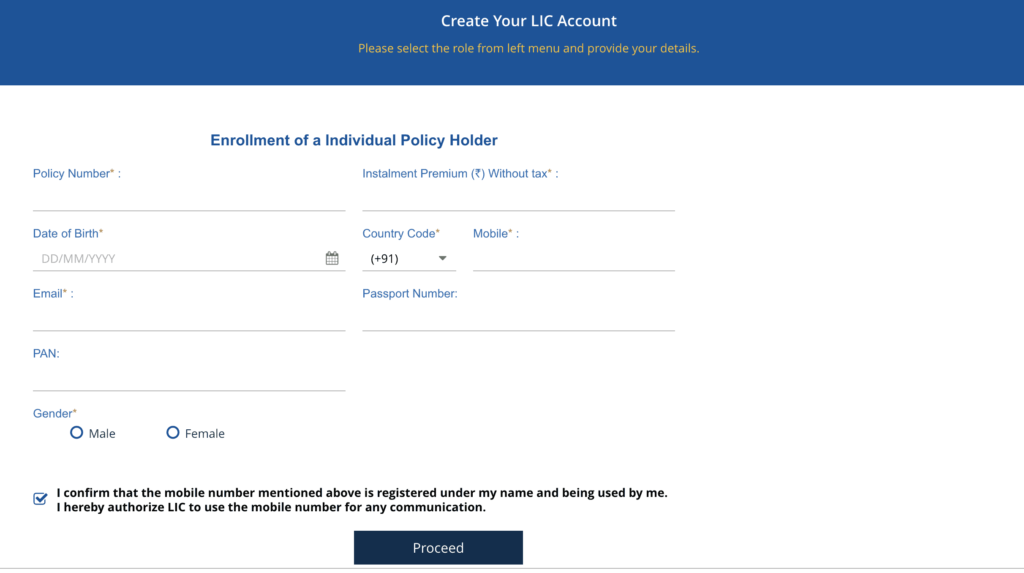 Please supply your policy number(If you don't have your policy number with you then you can your policy number from the LIC policy bond). Please supply the rest of the details needed in the registration form to complete the LIC new account registration.
Sign in to your LIC account
After the successful registration then please sign in to your LIC account to manage your LIC policies.
After you sign in you will get options like below

Choose any of the options above as per your choice. Select Self policies/all policies to see your current LC policies.
Add LIC policies in the portal
After you select self-policies/All policies, you should be able to see all your LC policies at one place.
You will get an option to add your missing policy details in this page.
Please enter details about your LIC policies to track everything at one place.
Pay LIC premium online
After you have added all your policy details. You can track your LIC policy premium due dates for all your policies in one place. To pay LIC policy premium online; click on the premium calendar first to check the premium schedule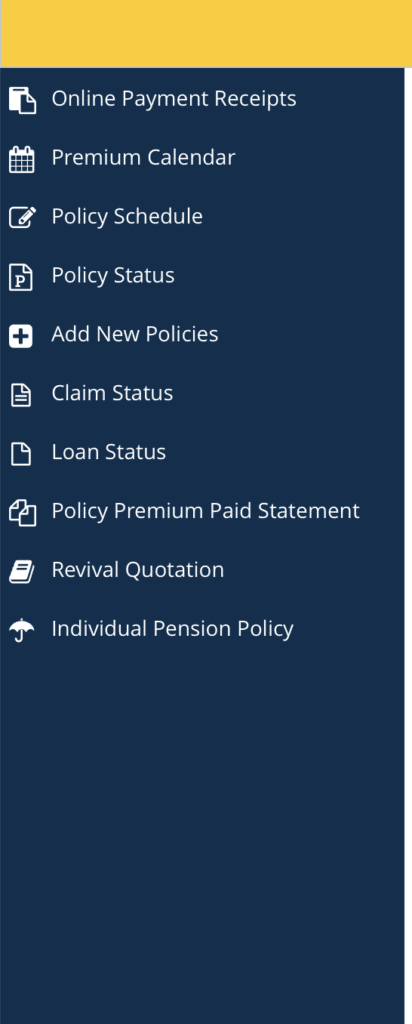 After you click on this link; you will get to know details about all your policies and premium due dates. You select the relevant policy to pay the premium.
You can your LIC premiums via various methods
Credit card – No extra charge
Debit card
Internet banking
After you pay your LIC policy premium; You can download the premium paid receipt from the portal.
LIC Premium Paid Certificate Download online
For all the LIC premiums that you have paid online; you download the premium paid certificate in just one click. From the below menu; click on Online payment receipts. You will get an option to choose for which all policies you want to download the premium paid certificate. You also get an option to select the financial year for the premium paid certificate.
FAQs on LIC Premium Paid Certificate
What is LIC premium paid certificate?

The LIC Premium paid certificate is a legal document presented by the policy provider (LIC Company) to policyholders. The document shows all the paid amount details in a particular financial year. Premium-paid certificates are required to tax exemption.

How can I check my LIC premium status online?

You can easily check your LIC premium status by logging into the LIC India website. After you log in, you need to go to the premium paid section to check which LIC premiums you have paid online.

Is there any app to check LIC policy status?

Unfortunately, LIC India doesn't have an app for its policyholders to check their policy status. However, you can log in to the LIC India website to check your LIC policy status.

How can I know my LIC policy status with an Aadhar card?

You can link all your LIC policies with your Aadhar card and PAN card by logging into the LIC India website.
Closing thoughts
If you are looking for saving income tax and only doing a LIC policy to save income tax then it may not be the best option for you. There are numerous other options available for you to save tax and generate higher returns than LIC policies.
Please consider taking term insurance to cover your life insurance and invest in ELSS funds to have better returns on your investment.
If you have already taken up LIC policies then it is best for you to pay the LIC policy premiums on time by simply logging into the LIC India portal.
Hope you have enjoyed this article; If you have any queries then please mention them in the comment section below to get help.